We carry the most prominent brands of fireplaces
Suppliers are Backlogged. Plan Ahead!
All of our fireplace suppliers are behind on production. This means delays and longer than normal wait times. If you are looking to purchase a brand new Napoleon, Regency, or Valor Fireplace, plan ahead, ask us now! —->>>
We choose to deal with the best brands of fireplaces on the market. Through experience and customer feedback, you can trust that if we choose to carry a particular brand of fireplace, it's for good reason. Browse our featured brands below!
*Don't forget to schedule regular fireplace cleaning services!
Napoleon fireplaces, stoves and inserts are built to provide high quality, lifetime use and keep you warm and safe even if the power goes out.
Napoleon is proud to be recognized as one of Canada's Best Managed Companies and is dedicated to providing quality, home comfort products for over 40 years and counting.
Napoleon is a Canadian company and manufactures their products in Ontario.
Regency Fireplace Products was founded in Vancouver in 1979. They have proven themselves to be a leader in the design and manufacturing of fireplace products. Their core belief rests in quality, value, efficiency, and aesthetics.
With 2000 dealers and 7 distribution centres across North America, Regency is committed to customer satisfaction.
Regency is able to respond quickly to market demands and regulation changes to create highly efficient, stunningly beautiful fireplaces.
From their firebox to their flames, Valor continuously refines their designs and masters their engineering to create the most efficient and enjoyable fire on the market.
Valor fireplaces are fully functional heaters designed to heat your home with efficient, radiant warmth—even in a power failure—and save you money on your electricity bill.
Valor's history stretches back to 1890 with roots in Birmingham, England, and a long history of working closely with Miles Industries in Canada.
Types of Fireplaces by Fuel Source
Fireplaces come in all shapes and sizes, and they also operate using a variety of fuel sources. The fireplace & fuel type you choose depends on many factors such as availability, convenience, efficiency, and personal preference. South Coast Fire Place currently deals with only Gas and Electric fireplace units, learn more below:
Gas Fireplaces & Gas Inserts
A gas fireplace is fuelled using propane or natural gas. A gas fireplace is a very popular choice because of the availability of gas lines, and the ability to control heating with the push of a button. 
Natural gas and propane options are more efficient and convenient than a wood fireplace, and both cut down energy costs and produce more heat.
There are direct vent and ventless versions, as well as many that make use of an existing chimney if you are converting an existing fireplace from wood to gas. Make use of gas inserts for quick and easy conversion.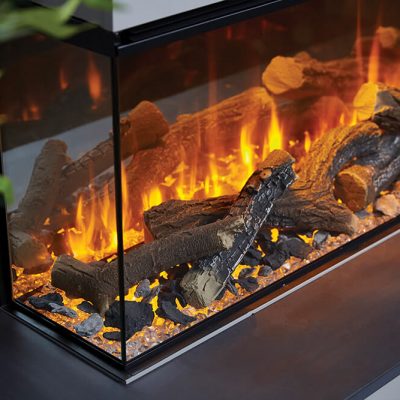 Electric fireplaces work by drawing in cool air, heating it internally using a heating coil, and gently forcing the warmed air back out into the room with a fan. This provides supplemental heating for the desired area without the trouble of smoke or chemicals.
All electric fireplaces list a particular amount of space they can adequately heat, depending on type and manufacturer.
Most electric fireplace models allow you to control the look of the flame, making this type of fireplace more appealing to many as a decorative option.
Contact South Coast Fire Place
If you have any questions about our fireplace products, please send us a message using the form below, or call us at: 519-688-2468